Agrofy: the agribusiness marketplace
With the experience of having ascended fyo in the grain commercialization sector, Maxi Landrein and Alejandro Larosa launch Agrofy, an online marketplace for agricultural businesses.
Por |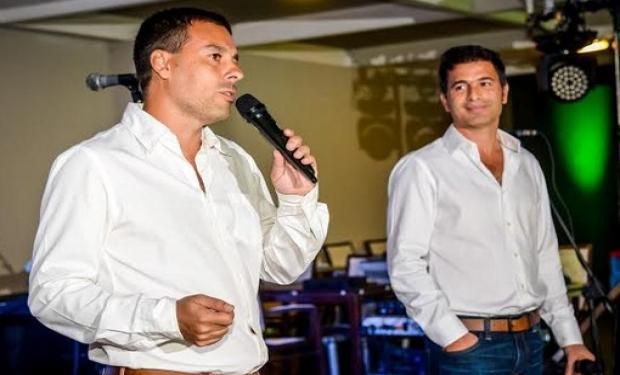 Maxi Landrein, CEO at Agrofy, and Alejandro Larosa, President of Agrofy.
08
de
Septiembre
de
2015
a las
12:17
Fyo founders capitalized their entire knowledge on agricultural market and went even further. On September, they will launch Agrofy, an agribusiness platform which offers a varied selection of services and provides users the ability to conduct more and better businesses thanks to Internet's potential.
"We are the result of more than 15 years of experience in agriculture, where we lead a constant research for innovation through the creation of value in the commercial field," stated Alejandro Larosa, CEO of fyo and President of Agrofy.
"We understand the realities and the needs of agricultural producers and companies. Accordingly, we are completely aware of how Internet and new technologies can help our users boost their capabilities for business. Ultimately, we know what is necessary to boost business in the countryside," emphasized Larosa.
FROM ARGENTINA TO THE WORLD
This platform will be launched in Argentina, as a first stage in the global projection. Its goal is to operate in every country in which agriculture is a relevant industry.
On Agrofy, different stakeholders in the agriculture field may work out their business through the web. Every area of agriculture is negotiated and there are units of reputation, payments and logistics. Companies may also have an outstanding presence with their own Agroshops (online branch).
The participation of many suppliers and many demanders provides unique dynamics to transactions carried out through Internet. "We are the focal point between the agricultural field's parties, and, for each of them, we provide distinctive services in order to boost their ability to make business. We intend to provide more opportunities for the companies in the field," asserted Maxi Landrein, CEO of Agrofy.
Agrofy is a platform that builds upon the active participation of all of the members of his community. That interaction improves the confidence towards the marketplace and grants value to the net. "The more stakeholders join and take part in Agrofy, the greater will the platform's value be. Our business community is built by everyone," says with enthusiasm Landrein.
SIMPLIFICATION OF AGRIBUSINESS
Agrofy provides its customers information relevant to business in a clear, precise and friendly way. "We feel motivated to enable and accompany the growth of companies willing to escalate their business," stated Federico Yeregui, Country Manager Argentina of Agrofy.
"Our mission is clear: To simplify the way of making business and, consequently, to boost growth. We respect what has already been established and we intend to incorporate it to the new trends, accompanying our customers in the process and providing them the necessary tools and support to boost their capabilities to make business," asserted Landrein, and added: "Simplicity bears power, and change bears growth."
INITIAL INVERSION
As regards the funding for the project, entrepreneurs had the support of fyo's shareholders, among which is Cresud. Also, currently, they are closing a venture round with angel investors, which is integrated by renowned businessmen from the agricultural world and from the technology world. Taking into account these contributions and the turnover of fyo's online publicity business, which is now part of Agrofy's business, the funding for the first year of operations will be in the region of USD 2.5 million.
TEAM IN CONSTANT GROWTH
Agrofy is an ambitious company in constant evolution; the work team continues to grow in order to achieve the objectives and to expand to the rest of the world.
"We look for Internet and e-commerce enthusiasts, as the challenges we face from the technological point of view are exciting," said Federico Rela, CTO of Agrofy.
"The team is crucial, that is why we incorporate people who wish to become part of an excellent work group, and who are ambitious to learn, evolve and progress. People who feel excited about the challenge of becoming part of the biggest Internet project in agriculture," stated Sol Fajardo, Talent Manager of Agrofy, and she invited those who are interested to see open vacancies and apply, to visit: http://agrofy.com/professionals.
For more informatión visit Agrofy